Features:
1, the micro crystal glass panel.
2, the unique mode of operation, touch key, easy to operate.
3, LED indication, human design.
4, two-way wireless remote control, up to 100 meters, can be used with a remote control.
5, Radio frequency 433M, can pass through the wall, civil standard frequency.
6, Android Phone/IPHONE/IPAD control.[ Need home automation host ]
7, two-way transfer, feedback signal.
8, CE certificate, double line designed, need null/live line, work steady.
9, special for LED.
Performance parameters:
Rated Voltage: AC100 ~ 240V 50HZ
Operation: Touch
Load Type: Incandescent
Dimming class: no class
Receiver sensitivity:-90dB
Frequency: 433Hz
Standby current: 0.016uA
Standby power consumption: 0.016W
Rated load: 600W
Operating temperature: -25 ~ 60
Humidity: 10% to 95%
Remote control distance: open distance 100 m
Installation box Size: 86*86 mm boxes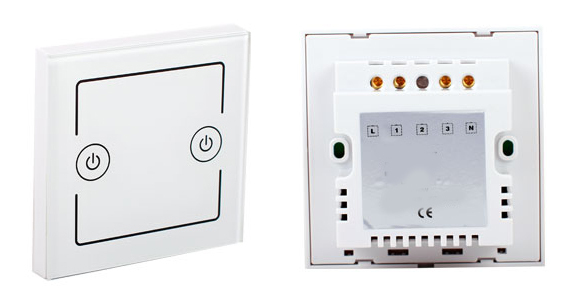 Payment:
We prefer Escrow
The shipping way depends on your address.
Terms and conditions:
1)Item comes with 12 months warranty against any manufacturer defects. We provide replacement service for defective cameras.
2)GUARANTEED Brand New In The Box, we only open it for test. The tracking number is available.
3)All sales are final, no refunds or returns on perfectly working items. Unauthorised returns will be ignored. The return policy does not cover accidental damage due to misuse, abuse or improper care.
4)Buyers are responsible to know that you are responsible for all taxes, duties, VATs levied by your own country's Customs.
5)We are not responsible for any delay due to unclear payment or address.
6)We will do a positive feedback automatically after receiving your positive feedback. We would appreciate your positive feedback. If you are not satisfied, please do contact us before you leave any negative or neutral feedbacks.
—————————–
What we are ?
Founded in 2010, a high-tech and service company. We supply and sell good quality security,alarm and home automation products to over the world. Meanwhile, We have over 10 years experience manufactory from Shenzhen, Guangzhou etc in China.
We are a experienced team, good at their interested products with specific knowledge, we can supply a special reference for you if you need some information < products, needs, companies etc.
What we believe ?
Following increasing of globle business, it is a amazing growing speed of export amount per year. Here is the largest product market with good quality performance.
We think there is a superexcellent opportunity to us supply best product ( work steady and simple setting ) to our customer, share new technology and high profit with you. We believe it is most important use innovating technology, creat competive products and best service to customer, that is our mission.
What we do ?
We want supply best products and service to our customer, no matter it is a big group and personal needs, we belive any customer can be our partner, and introduce us to their business and family relations. We main supply alarm products, security products and home automation parts, we have a good price for business promotion, even for personal use, we can deal.
What is our solution ?
We have over 10 years experience factory in local market in China, Fala Technology is the leading provider of control and automation systems for homes, offices, schools, hotels and more. Our system provides the ultimate technology lifestyle. No matter where you are, or what you do, with Fala you're always connected.
At Home
You don't need multiple remotes just to watch television, or a wall filled with switches and knobs that takes you 3 tries to find the right light. Take control of your home with just one button press from a remote or your iPad, iPhone ; Select a movie to watch or music to enjoy from your favorite chair. Adjust your lights, shades, temperature and check on your alarm system without getting out of bed. The comfort and convenience of the ultimate technology lifestyle can be yours. The possibilities are endless, whatever you can imagine Crestron can do.
At Work
Whether you need to control an AV presentation, videoconference internationally or update your digital signage, Our system has a control system to keep you connected. Monitor your enterprise to increase sustainability by tracking your carbon footprint to see where you use on site energy, and how you can continue to reduce energy costs. Add room sensors and set presets for shades to control daylight harvesting and only use lights as they are needed. Show off your energy savings from a flash-based, stylish interface in your lobby.There are no limitations to keep your organization on the cutting-edge, increase efficiencies and lower costs.